DESTINATION IN YANGON
Yangon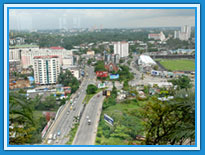 Yangon is the capital city of Myanmar until 2007 and after that, Naypyitaw has become the capital of Myanmar. Yangon is the main gateway to Myanmar. Evergreen and cool with lush tropical trees shady parks and beautiful lakes, Yangon has gained the name of the Garden City of the East. Yangon was founded by King Alaungpaya on the site of a small village called Dagon when he conquered Lower Myanmar in the 1755. The name Yangon means "End of Strife" which was anglicized to Rangoon. In the present day, Yangon covers over 350 sq.km with a population of over 5 millions.
Sightseeing in Yangon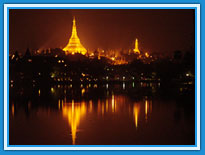 Shwedagon Pagoda, Botatung Pogada, Chauk htet gyi Pogada, Sule Pagoda and Kaba Aye (world peace) Pagoda.
Other places
National Museum, Martyr's Mausoleum, Bagyoke Market and Park, Kandaw Gyi Lake, Mingalar market.
Thanlyin / Kayuk Tan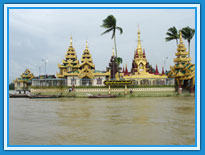 In the 16th century, Thanlyin was the base of Portuguese and it was the main place for trade by shipping. In early 17th century, Myanmar besieged Thanlyin. Nowadays, Thanlyin is the major port of Myanmar.
Twantee
It is a small town and 24 km far from Yangon. You can get there by boat along the Twantee cannel. This town is famous for potteries which is their main business.
Bago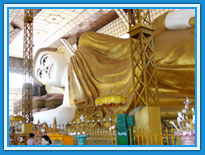 Bago is 80 kilometers far from Yangon. It was once the capital of the second Myanmar Empire in the year 1550. The interesting places of Bago are Shwemawdaw Pagoda (114 meters Height), Shwethalyaung (55 meters long & 16 meters Height), Kyaikpum, Mahazedi, Hintharkone where the Nats offering festivals are celebrated.